Our Mass Fever Screening System
Scans
Identifies
Tracks
Register
Alerts
feverish
people at any venue with large human traffic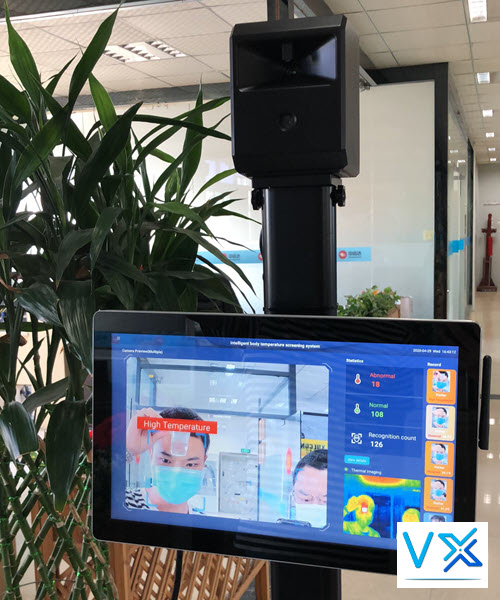 NON-STOP SCAN OF SINGLE OR GROUP PEOPLE SIMULTANEOUSLY
Easy to operate with simple user interface.
VX AI Fever Screening System has been specifically designed for flu, virus and infection screening, used for large-scale temperature monitoring in crowded public places or high traffic areas, to detect any individuals with a fever immediately.
This non-invasive system can be set up at the entrance of a public venue or a workplace to screen those entering for fever.
It will immediately display a warning, along with the captured image, of any individual with a temperature above your established threshold.
Those at risk can verify their temperature with a medical thermometer and be directed to get appropriate medical attention or to isolate themselves.

The Automated AI Temperature Screening device is your business's fastest and least intrusive way to protect your customers and employees.

Fever Screener is designed for INDIVIDUAL target temperature measurement with a high speed of results delivery
MASSIVE HUMAN TEMPERATURE SCREENING
Mitigate the negative impact of COVID-19 on your business processes and ensure the safety of your working environment.
MASSIVE AI-BASED FEVER SCREENER
Safely scan employees and visitors for high temperature as they walk into a building or a defined area. This all-in-one temperature scanner automatically scans and detects body temperature as employees or visitors walk by it.
Used in schools, airports, hospitals, construction sites, correctional institutions, government and office buildings to help screen potentially affected people in both the workplace and public venues.
The solution also includes the alerting module to immediately inform if potentially infected individuals are detected.
User authentication read range up to 8 feet
The system can automatically prevent people from entering if the pre-defined temperature threshold is exceeded or are not wearing a mask.
The contactless system is easy to install and operate in the most visited and crowded places, such as entries, checkpoints, halls, etc.
The solution employs artificial intelligence to recognize an individual's face and measure the body temperature, even if the face is covered with a mask or glasses.
Our Massive Devices continuously monitor and measure body temperature, displaying the received data on the screen.
Any anomalies will be automatically detected. Every responsible person immediately receives details for additional checks and further actions.
Once the machine arrives with you, you will access to our training videos. The machine is very simple to use. We also offer a phone/remote access session to help you set your system up and answer questions. An easy-to-understand Quick Start booklet is also sent with the device.
Our first class product with thermal infrared sensors as well as face recognition technology.
Automatically facial temperature lock:
When fever is detected, the device screen displays a clear warning alarm, both visual and auditory (optional), and the system automatically saves the image of the individual.
Audible sound alarm / visual red box indicator alarm:
VX AI edge Station comes with VX software are standard. VX software has a built-in AI face detection module, automatically lock face for temperature measurement, intelligently shield high-temperature sources other than faces in scenes.
Automatically human face recognition for detection to avoid false alarms:
Built in AI dual light face detection algorithm, only detect face temperature with 100% passing rate. Other hot or cold object such as hot water won't trigger the abnormal temperature detection alarm. Note: the hot object cannot be placed right in front of the face.
Automatic counting and statistics on screening:
When an alarm is triggered, system will automatically capture a photo of the detected person for later statistics and analysis. VX AI can automatically count the number of screened personnel and the number of suspected abnormal body temperature alarms during the screening process, for an epidemic prevention and control.
No battery recharging required:
Everything plugs into power sources, so you never have to recharge batteries. Many of the thermal cameras for sale will only run about 10 hours and then batteries have to be recharged.
The VX AI has an automatic calibration function which is calibrated every 10 minutes. This automatic calibration is constantly done to adjust for the ambient circumstance and temperature. VX AI software has a built-in body temperature calibration algorithm, which automatically collects face temperature in different scenarios for self-learning, and adjusts the body temperature alarm threshold in real time by adapting to ambient temperature changes, preventing people who report abnormal body temperature due to morning or night temperature differences.
Handheld devices or one-by-one screening can put personnel at risk, as well as being slow and cumbersome. With the VX AI Thermal Scanning device you will save time and eliminate concerns. Even if the VX AI is left unmanned for periods of time, it keeps working and alerting and saving images of any detected high temperatures.
Fast and accurate measurement:
The thermal scanner produces immediate computer readings with high accuracy to within 0.5 degrees and a built-in algorithm ensures a low false-positive rate. You can safely scan about 5 people across and there is no need to stop at the camera. People can just walk through at a slower pace (not rush past), so you can easily screen over 100+ people per minute.
AUTOMATED TEMPERATURE SCREENING AI
AI infrared thermal camera system
Real-time safe non-contact group screening and accurately identify suspected individuals with abnormal high temperature without obstruction.
Easy to operate with simple user interface.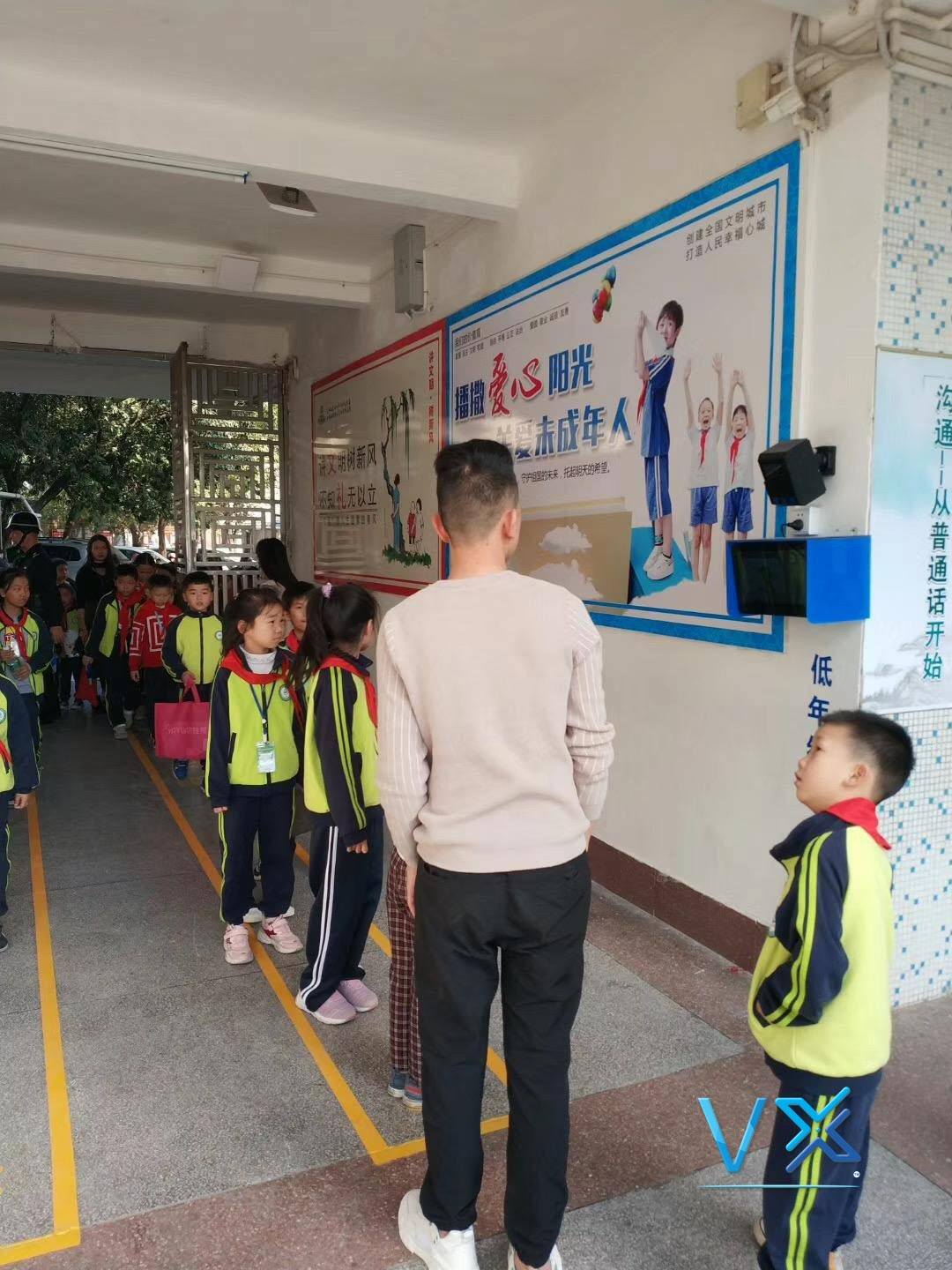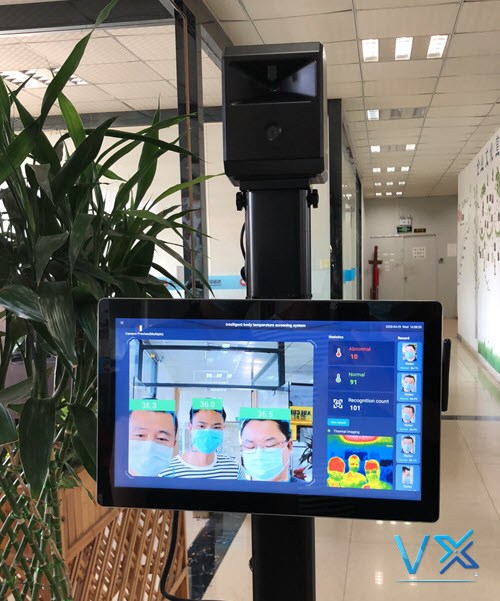 AUTOMATED TEMPERATURE SCREENING AI
AI infrared thermal camera system
The kiosk is plug and play, standalone system giving a modern, classy look to your environment. No need for an employee to awkwardly stand in front of a patron while pointing a handheld device at or on their forehead.
Protect your employees and customers with minimal distraction and effort.
AUTOMATED TEMPERATURE SCREENING AI
AI infrared thermal camera system
The system is non-contact for the customer and does not require any participation from an employee.
Instantly the screen will indicate the temperature.
Color Display Threshold - Green=Pass Red=Fail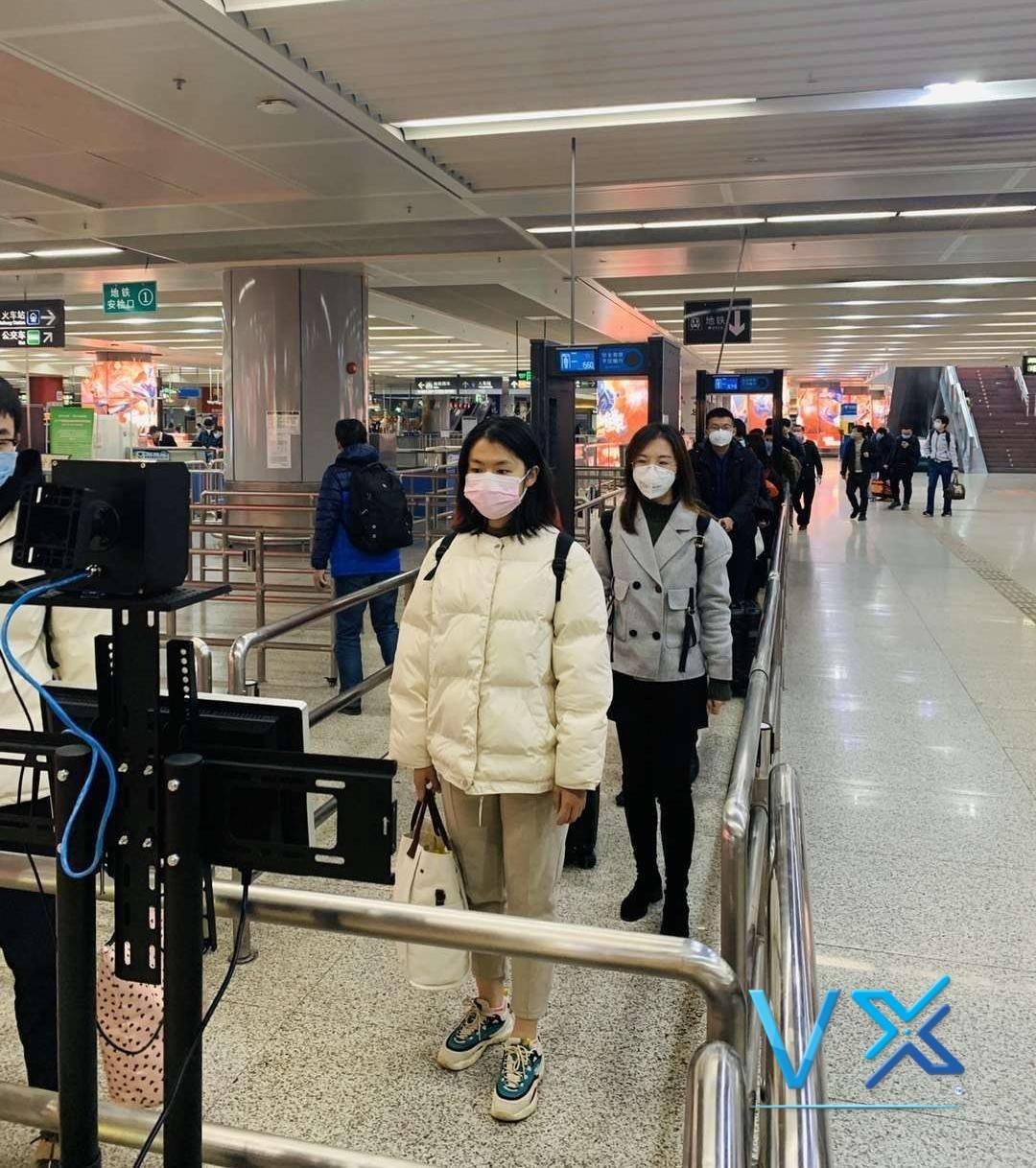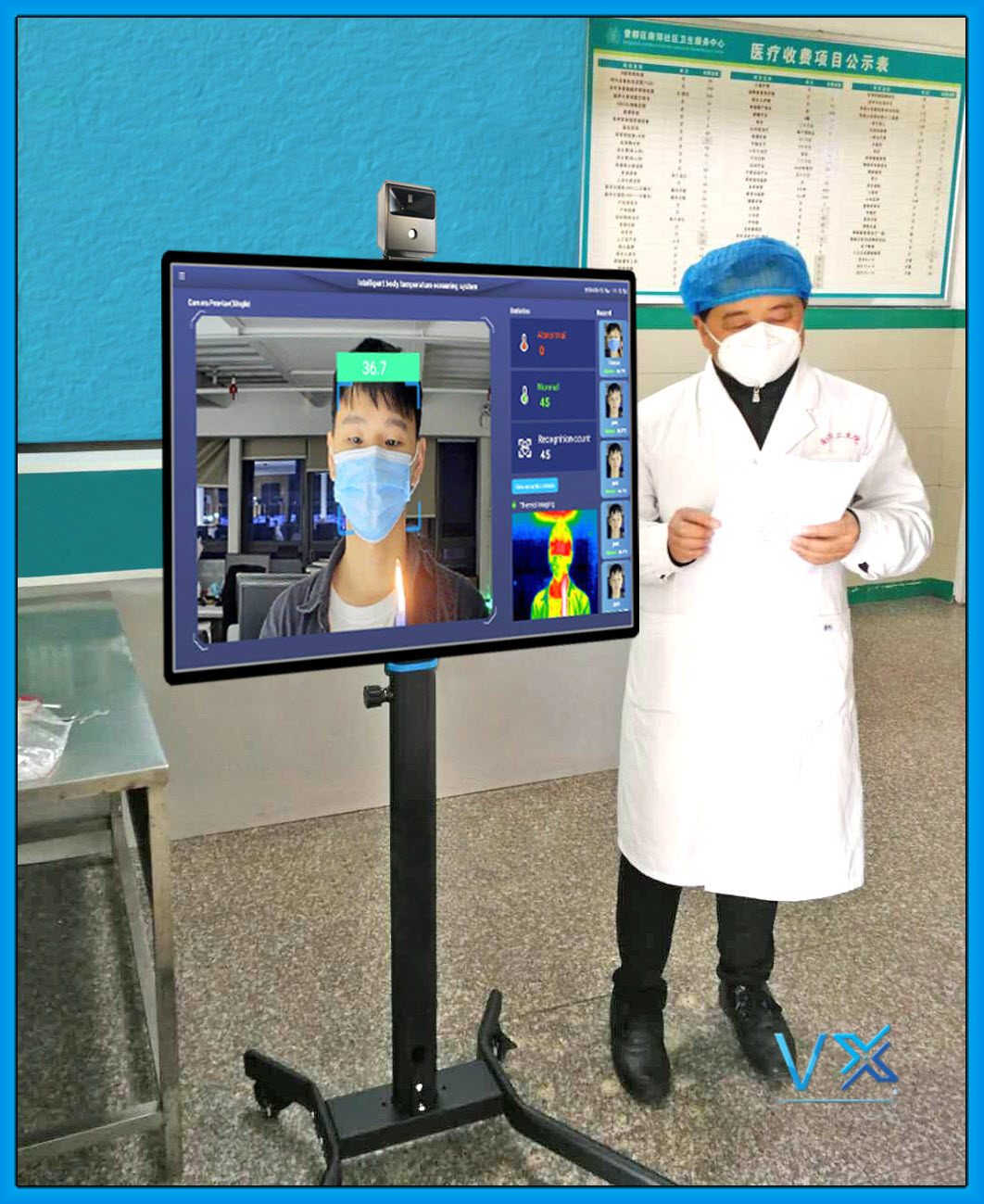 AUTOMATED TEMPERATURE SCREENING AI
AI infrared thermal camera system
The VX' s system detects an abnormal temperature, voice alarm will be triggered immediately, along with a red box shown on the target face on the real-time video with an automatic snap shot of both infrared image and visible light image.
Simply mobile Kiosk can stand a few feet in front of the screen
Why Choose the VX AI Thermal Scanning System
Accurate
Safety
Fast
Group Scanning
Affordable

Fast & Accurate Temperature Measurement

AI Intelligent temperature calibration algorithm

Designed for high traffic volume areas and crowds

Non-invasive and discreet

Automatic Warning Notification with images

Dual Camera (Infrared Thermal Camera + CCD Camera)

Saves image of each alert

Low False Positive Warning Rate based on AI algorithm

Automatic counting and statistics on screening
DETALHAMENTO DAS FUNCIONIDADES
TEM DÚVIDAS SOBRE VISIBILIDADE DE ATIVOS & SOLUÇÕES DE GESTÃO?
DEIXE-NOS SUAS INFORMAÇÕES DE CONTATO E FICAREMOS FELIZES EM AJUDÁ-LO!